Beautify your Missoula property with a beautiful new deck installation
Are you seeking creative ways to boost the appeal of your home, or do you prefer sipping your coffee outdoors? Building a deck can be an excellent way to add functionality and beauty to your Missoula, Montana property.
We understand why you find yourself standing aimlessly in your yard sometimes. Maybe you want to work on your next book, and nature inspires you to pen down your first chapter, or perhaps you are trying to find relief in the soothing outdoor atmosphere.
Whatever it is, we know that utilizing your yard for numerous purposes makes sense. For this reason alone, our experienced deck builders of Garden City Deck Solutions of Missoula Montana offers quality deck solution services to spruce up your outdoor space.
Adding a deck to your home boosts your property's value and offers endless ways to utilize the space. You can enjoy a BBQ night with your friends, host special events, have a family meal, or relax while watching the sunset. Besides, nature lovers can enjoy the sight of cherry blossoms in early spring and snow during the winter season.
Perhaps this explains why homeowners plan to add decks to their homes to make their property more valuable, attractive, and practical. If you're in the same boat and are uncertain how to go about it, Garden City Deck Solutions has got you covered; from contemporary deck installation to repairs, we offer countless deck services to elevate your lifestyle.
Who are the deck builders in our network?
Despite having an experienced deck solution team, we advocate regular training sessions to polish their skills and learn the latest techniques for deck installation. Because the world is evolving swiftly and new products hit the market with each passing day, we aim to enlighten our staff with trendy, quality, and new deck materials.
This helps us keep our promise of staying dedicated and offering exceptional services to our clients – regardless of the project's complexity. Our network of experienced deck builders stands out because of their careful thought, attention to detail, and broad vision. We bet you'll come home to quality after choosing our team for your deck project.
Constructing or repairing the deck isn't our teams' only aim; they perfect it with creativity and excellence. The unvarying quality and diversified services set our experts apart from our competitors in business and helps maintain a solid reputation among customers.
Our network of experienced deck builders are the ones you can count on for positive experiences and remarkable outcomes.
Why choose Garden City Deck Solutions?
Quality Missoula deck building services with a promised guarantee
Deck construction is fun as long as you choose skilled workers for your task. Otherwise, building or repairing a deck is no less than a headache. Time-consuming and pretty frustrating when you realize the results aren't what you dreamt about in the first place.
So, instead of wasting your hard-earned money, why not do some research to find reliable and credible deck solution constructors?
Our network of experienced deck builders assures quality services to customers across town.

Experience and knowledge
Any deck repair and construction company can make fancy claims about its quality services. But what does speak about its credibility is experience. No deck installation service providers can offer satisfactory deck solution services without the right expertise and knowledge. Having served numerous clients across the city, we have the experience to take varying deck projects and make them successful. Because our team has resolved the issues and addressed customers' pain points for years, they know the art of building different deck styles and providing appropriate repair services.
Years of experience have also polished their skills which helps us provide top-notch services consistently.

Professional deck installation
You could opt for quality deck materials and have the most innovative ideas in your head, but an improper installation will shatter your dreams. Because several things go into a deck installation project, a creative plan and high-end materials aren't all that are essential for a positive outcome. Many customers have regretted choosing inexperienced deck solution companies. Not only did their money go down the drain, but it remained one of the most disastrous experiences of their lives. At Garden City Deck Solutions of Missoula Montana, we aim to turn your negative life experiences into positive ones through our professional and skillful deck installation. Our team knows the art of installing quality products like pros. So, if you're short on the budget, professional installation is all you need to nail your deck project.

Quality deck materials
If you have the right budget, we have the suitable materials to make your deck project satisfactory. While experience and knowledge count, quality materials set the base of every construction project. So even the most skilfully installed decks wear due to substandard materials. For this reason alone, we offer superior quality materials to make your deck durable and stand the test of time. Because decks endure different weather conditions and environmental stressors, it won't take long for them to crack and break if for sub-par materials. So, aside from having the right knowledge and installation skills, the material quality matters greatly. In fact, it can make or break the deck projects – or any construction project for that matter.

Expert advice about quality Missoula decks
While working with us guarantees quality and reliability, that alone isn't what makes us outshine others in the business. Our clients have always shown satisfaction and gratification for our sincere suggestions and genuine advice. So apart from utilizing premium deck services, expert advice is another pro when working with us. Our experienced staff guides you about the merits and demerits of each deck design, style, material, and whatnot. This helps us put together a plan to realise what you want to see and encourages a successful outcome. For instance, you might have seen a specific deck design online, but your area's weather condition doesn't make it an appropriate choice for you. That – and more – is discussed, shared, and talked about at Garden City Deck Solutions of Missoula Montana before undertaking a deck project.
What exactly Is a deck?
A deck is generally a structure made of wood situated adjacent to your property. When homeowners talk about a deck, they typically think of it as a feature meant for the home's rear. However, that's not true. You can situate the deck anywhere outside your home. Your front porch can also be a deck. Further, you can also consider a landing serving or a stairway as the deck. So, as long as the structure is built like a deck, it remains one regardless of its location. However, deck construction codes vary significantly from, say, your porch – that's what experts explain to you when you hire them.
Decking Options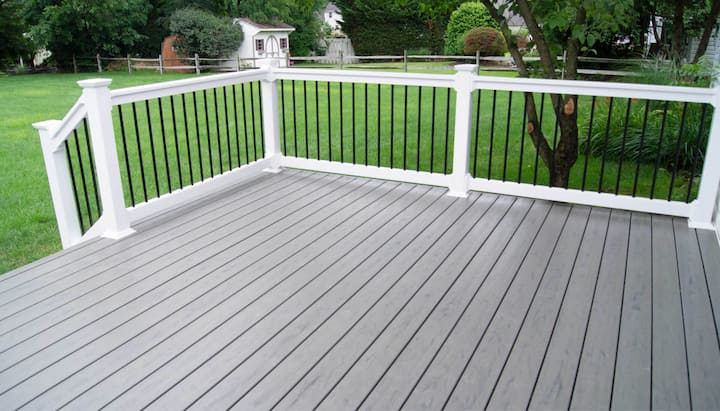 Get In Touch Today
Building your deck shouldn't be a nightmare, especially when you choose us for your project. Garden City Deck Solutions of Missoula Montana ensures to make the entire process exciting and memorable with its quality services, consistency, and dedication. Contact us today, and we'll be at your service to put your plan to action and assure satisfaction!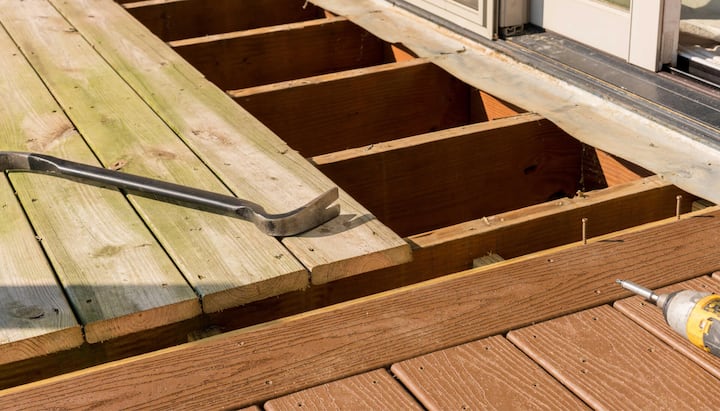 Benefits of installing a deck for your Missoula home
Initially, you might go for a deck merely to touch up your home, or if you like spending time outdoors, perhaps you want a suitable place to sit and revive. But here's one of the greatest parts: deck installation offers more than beautifying your home. As they say, possibilities are only limited by your imagination, and how a deck can serve you is only restricted by what you believe. Let's look at some cool ways deck installation can come in handy for you and your family – even your guests.
If you're seeking ways to uplift your lifestyle, chances are, you'll go for a home renovation.
But let's get this straight, while home remodeling is exciting, it is time-consuming and costly. On the other hand, Deck installation for your Missoula property reduces hefty home renovation costs and offers a hassle-free way to boost your living style.
If you go for skilled deck contractors, they will take a few days to install a gorgeous-looking deck outside your property. Besides, because its installation is outside, you won't face any inconvenience.
You can carry out your day-to-day activities as construction workers and deck engineers work outdoors. Simply put, deck installation is an excellent alternative to expensive renovations – typically if you aim to improve your lifestyle.
Whether you want to sell your property within a few years or want to boost your home's value merely for the sake of boosting it, you won't regret going for deck installation.
Instead, it'll top the list of your life decisions that bore fruit in the long run.
Further, if you seek to sell your Missoula property, you must consider deck installation for all the right reasons. A sleek-looking deck attracts buyers, and you can ask for the price you desire – as long as it makes sense.
Here's the best part!
A properly installed deck complements your home. With countless finish and material options, thousands of styles, and hundreds of patterns, you can pick one to boost your home's appeal.
Also, you can place the sports equipment outdoors instead of cluttering your home. If you have children, they'll also enjoy spending time outdoors, which will minimize their habit of sticking to screens 24/7. Beauty attracts everyone, and kids are no exception.
One of the biggest pros of a deck is that you can customize it per your lifestyle to support your interests. For instance, dual-level decks offer separating areas for conversations and studying and reading in a tranquil setting.
If you love hosting BBQ dinners frequently, you can add an outdoor kitchen. Besides, a fireplace or fire pit will come in handy if you like to sip your coffee outdoors during cold winter nights.
Additionally, you can also go for pools and foundations for an alleviated outdoor experience. If you like streaming movies or matches of your favorite teams, a flat-screen outdoors will serve the purpose.
Make sure you determine your needs before communicating with the contractors. This will ease the process and help you build the deck you always wanted.
Do you like outdoor plants or lights to enhance the appearance of your home exterior?
Indeed, the right decor can beautify your property and captivate viewers at first glance. You can place your favorite potted plants and install enticing outdoor lights to make your living space even more beautiful.
If you like to pet animals, you can also place an aquarium outdoors or a birdcage.
Further, installing bird feeders can attract outside birds to your yard. While this helps you contribute to your environment, it also looks appealing.
So, the ideas are unlimited; you only need to comprehend your wishes and pick a plan accordingly.
Entertainment isn't restricted to dancing and singing; spending time with your loved ones and having an honest conversation surpasses all forms of entertainment.
You can dedicate a seating area for your family, friends, cousins, and guests to sit and enjoy. Your deck is the perfect place for a BBQ party or Thanksgiving dinner.
Further, if you're into other forms of entertainment – think movies – you can ask your contractor to customize your deck accordingly. It will help you set up your projector and enjoy your favorite films on the go.
Things to Consider Before Deck Installation
Deck offers a versatile way to fulfill your needs, from outdoor dining to entertainment and more. However, you must consider a few things before installing the deck to maximize its advantages. Besides, make sure you communicate your precise needs to the contractors to get the job done. Here are a few critical things you need to consider before deck installation.
Your Budget
A deck design in your head may not align with your budget. However, there is still light at the end of the tunnel. Professionals can share alternatives for an affordable deck project. Nonetheless, you must communicate your ideal budget to set realistic expectations for your deck. Regardless of the deck style you choose, we do not recommend opting for low-quality materials – no matter what. As an outdoor feature, the deck can wear over time. However, if you go for quality materials, they'll last longer, and you won't need to pay for repairs time and again.
Material Options
When we think of a deck, we typically think of wood. No one is to blame here, though, wood is one of the most popular deck materials, and most homeowners go for one. However, even wood has distinct categories and varying styles. So, you need to decide which material you want to pick, metal, plastic, or wood? Let's look at some of the most popular options:
Premium hardwoods, including ipe, teak, and Brazilian types, are durable.
You can also choose pressure-treated wood containing wood and weather resistance preservatives like redwood, cedar, and pine. This wood conveys a cozy vibe, perfect for a typical home deck.
Plastic planks are pretty popular, and for good reasons. They can stand harsh weather conditions and resist rot. However, they are expensive and not an option to consider if you're tight on the budget.
Composite decking materials feature recycled plastics and wood fibers. They are low maintenance, which is a plus. However, they are costlier than wood.
If you live in an area with frequent rain spells, aluminum deck material can be your best bet. Yes, it is pricey but lasts longer than other deck materials on the list. So, you get the value for the money.
Style
Because the deck complements your home exterior, considering its style is imperative for positive results. Depending on your needs – and what suits your home style – you can go for a round or a curvy deck. Further, you also can choose to pick from floating or attached decks. Most homeowners prefer freestanding decks because they do not require many building codes and can be installed on concrete piers. Besides, they also give a sleek look and make up for a solid foundation. However, the attached decks have their pros too. For instance, you can walk out of your home on a patio on the same level. You can go for one or another depending on your preferences.
Lighting
If you're into aesthetics, you must consider deck lighting. It enhances the beauty of the deck and boosts the look of your home's exterior. However, you'll have numerous fixtures to choose from. Do you want to add a romantic ambiance to your deck or create a festive vibe? Note that the amount of lighting you choose will affect your budget and deck design. Therefore, discussing it with the professionals is a good call to stay within the budget while opting for the right style. Some popular deck lights include:
Landscape spotlights
Path lights
Recessed step lights
Post mounted lights
Outdoor kitchen lighting
Note that this list isn't exhaustive, and the market is flooded with countless lighting options.
Privacy
If you're not willing to compromise your privacy, make sure you pick an appropriate spot for installing the deck. For instance, if you do not want your deck to be visible to neighbors, consider adding privacy screens to block the view. This will ensure safety and privacy, and you won't feel the sense of being watched.
Building Codes
Building codes are a set of norms, rules, and regulations that state the standards of design and materials for constructed objects like buildings or non-building objects – think electrical or plumbing. Building codes determine the construction and design for public health safety and interests.